Wisconsin Landscaping Features
Palladium Patios have a wide variety of skills to ensure we can achieve your landscaping goals. Plantlife, water, and hardscaping are just some of the features we can add to your yard.
Plants: shrubs, flowers, lawn, and trees
Plantlife is an integral part of a well-designed yard. During the design process, we work with you to decide on the best plants for your yard. Where do you want shrubs, trees, or flowers? We can help you plan the beautiful yard you dream of.
Plantlife Options: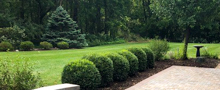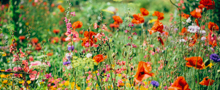 Water Features: Pools, & Fountains
Water features add sound, visual appeal, and a stylish look to your home's landscape. Palladium can help you find the right water feature for your home. A sampling of great water features include:
Decorative fountain
Pond
Swimming Pool
Birdbath
And more!
Hardscaping: patios, stairs, retaining walls
Palladium Patios has several masonry contractors who specialize in adding hardscape features to your home. Our masons have extensive experience with brick, pavers, Lannon-stone, fieldstones, and many other types of masonry. You are sure to be pleased with your new hardscape.
Popular hardscaping options: